DELHI CM KEJRIWAL GETS A UNIQUE GIFT FROM CITIZENS FIGHTING GM MUSTARD: CITIZENS URGE HIM TO ACT PROACTIVELY TO STOP GM MUSTARD FROM INVADING THEIR FOOD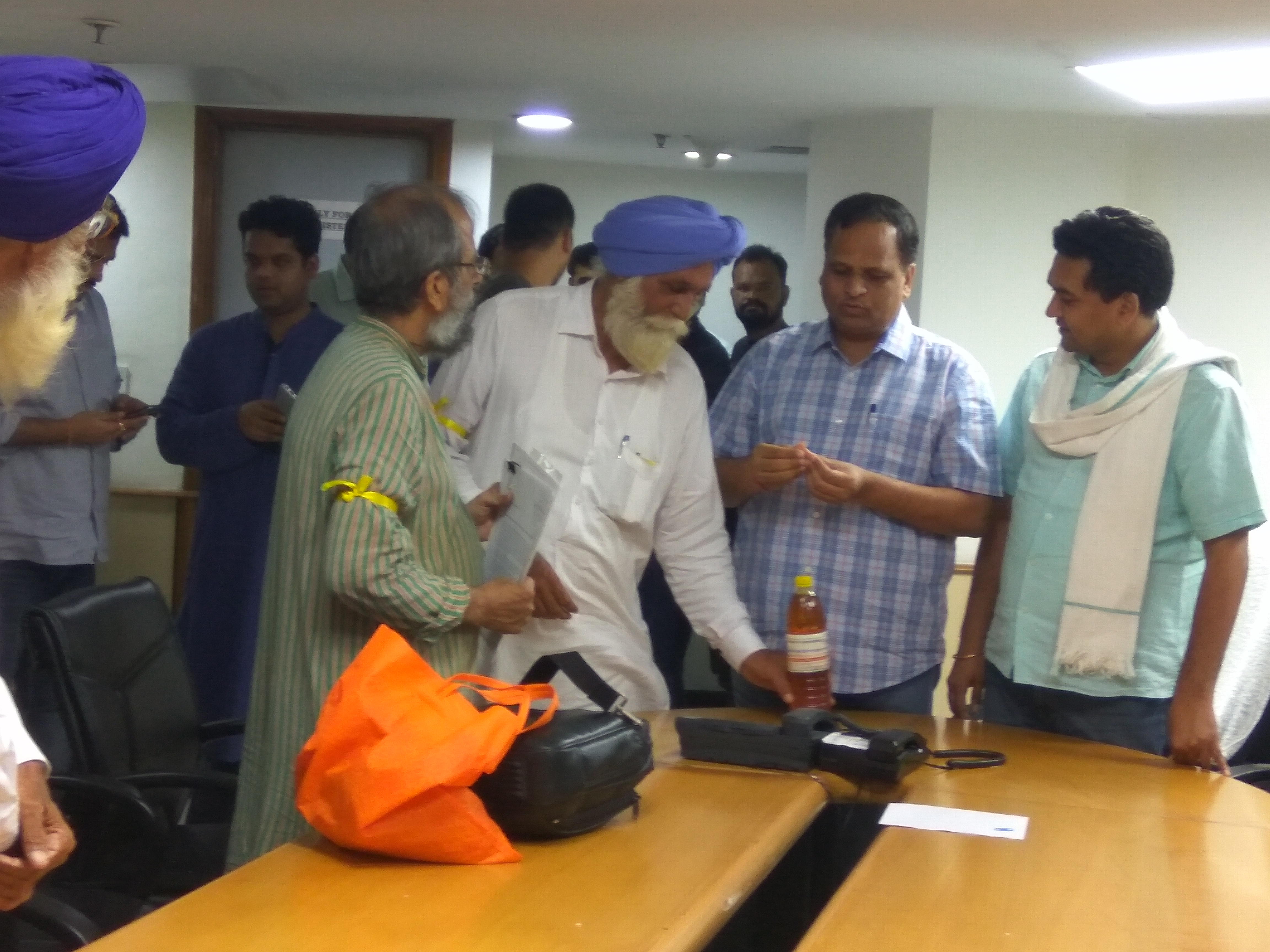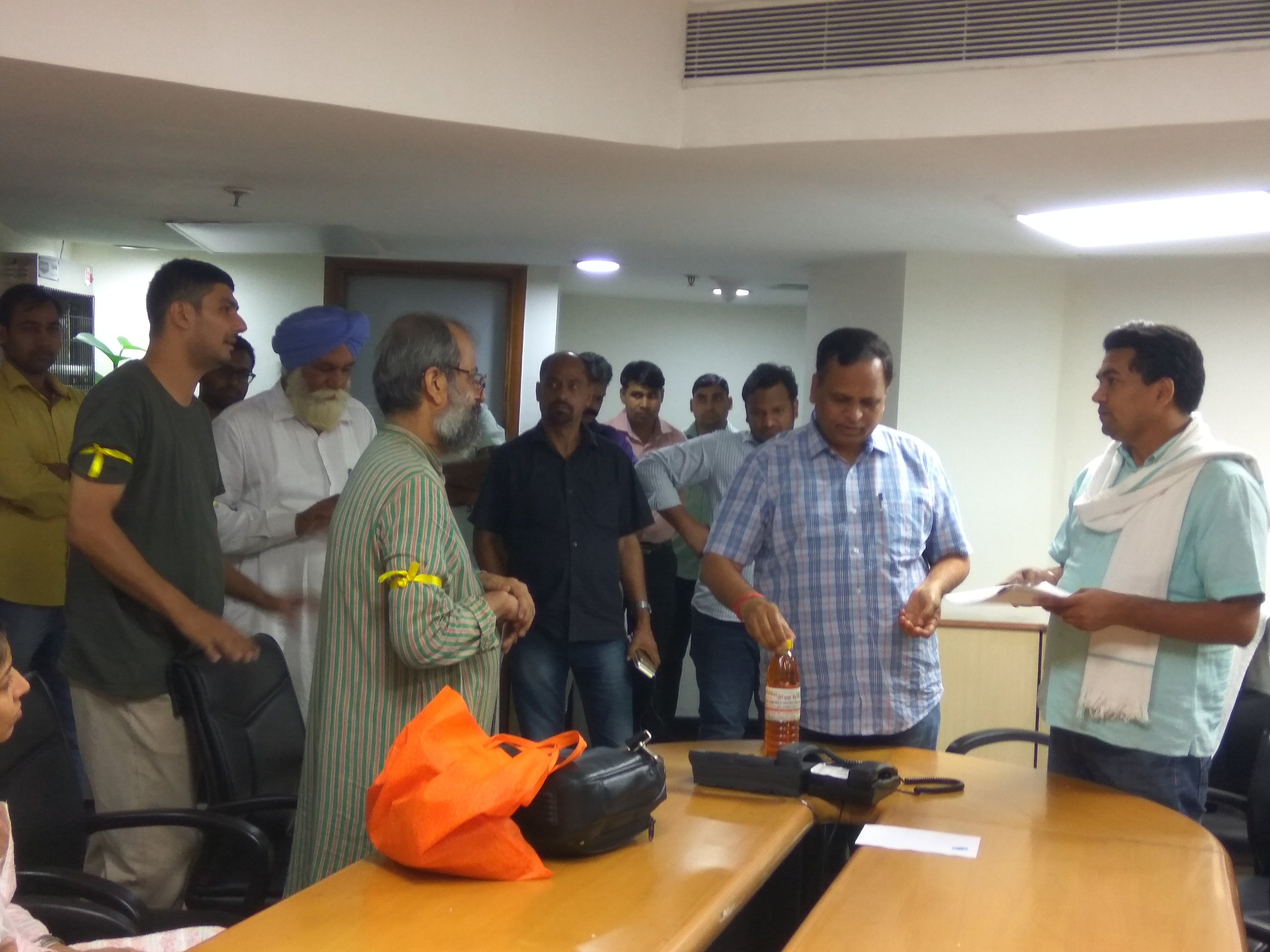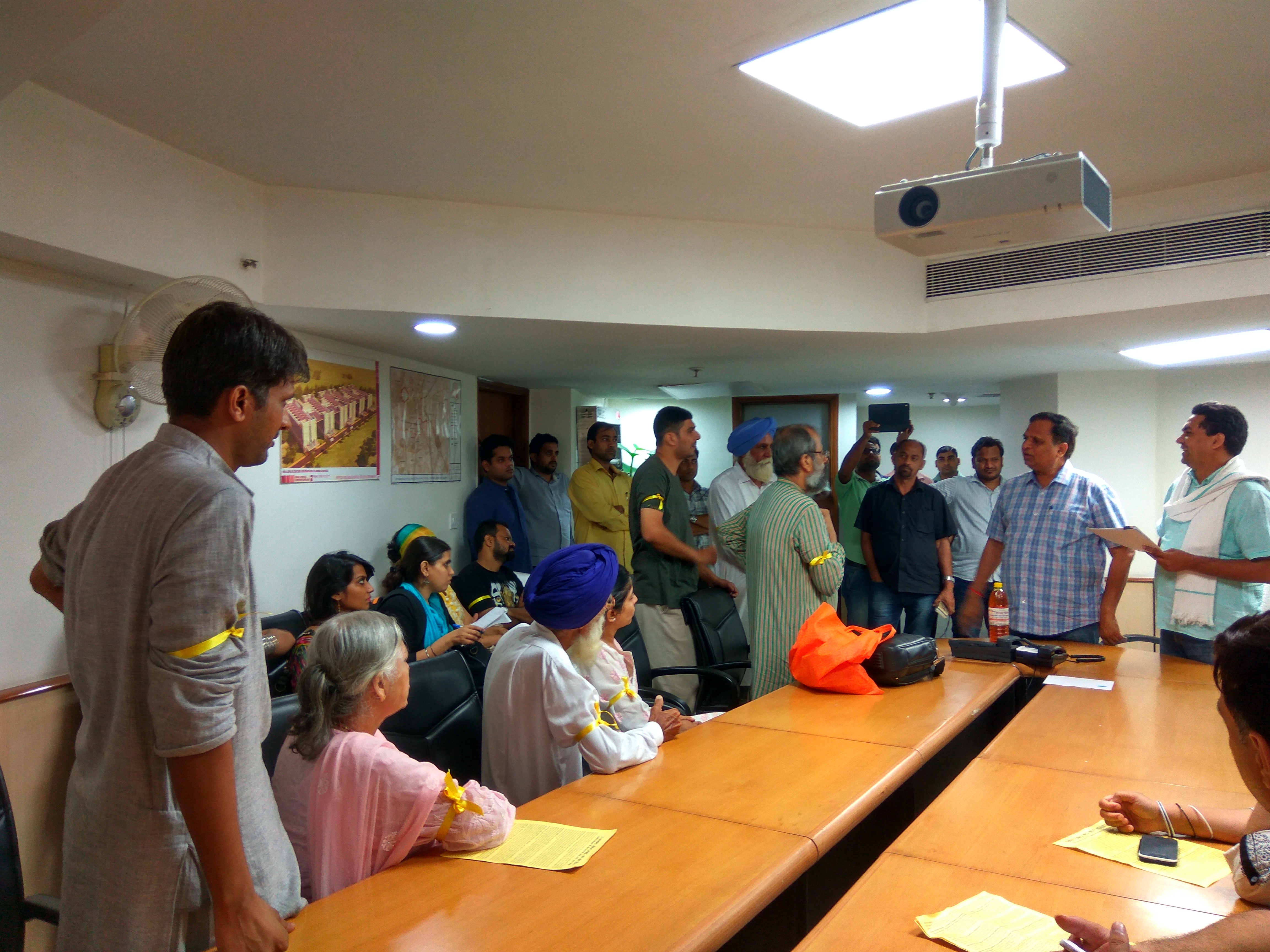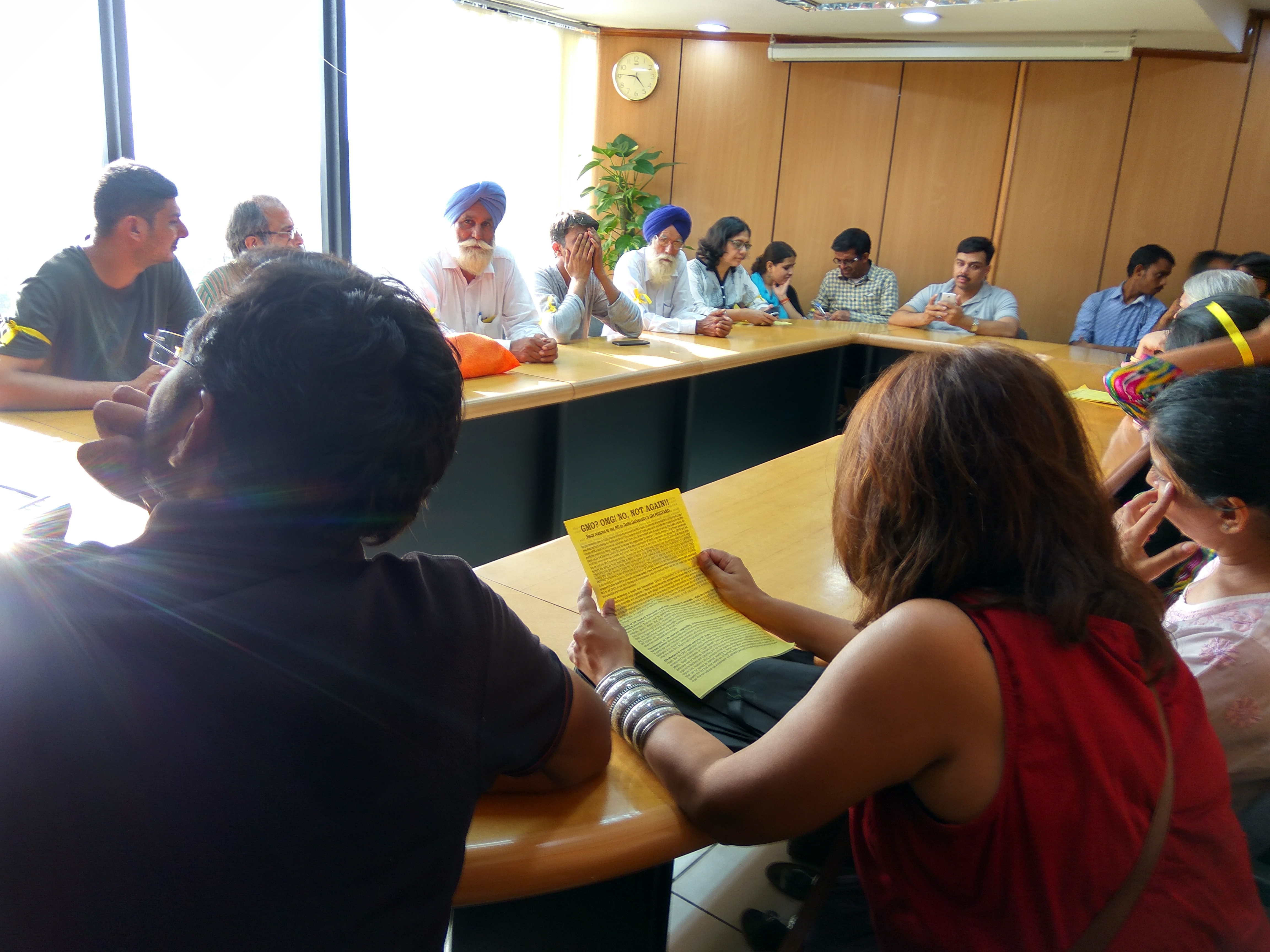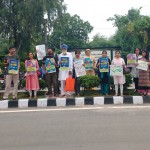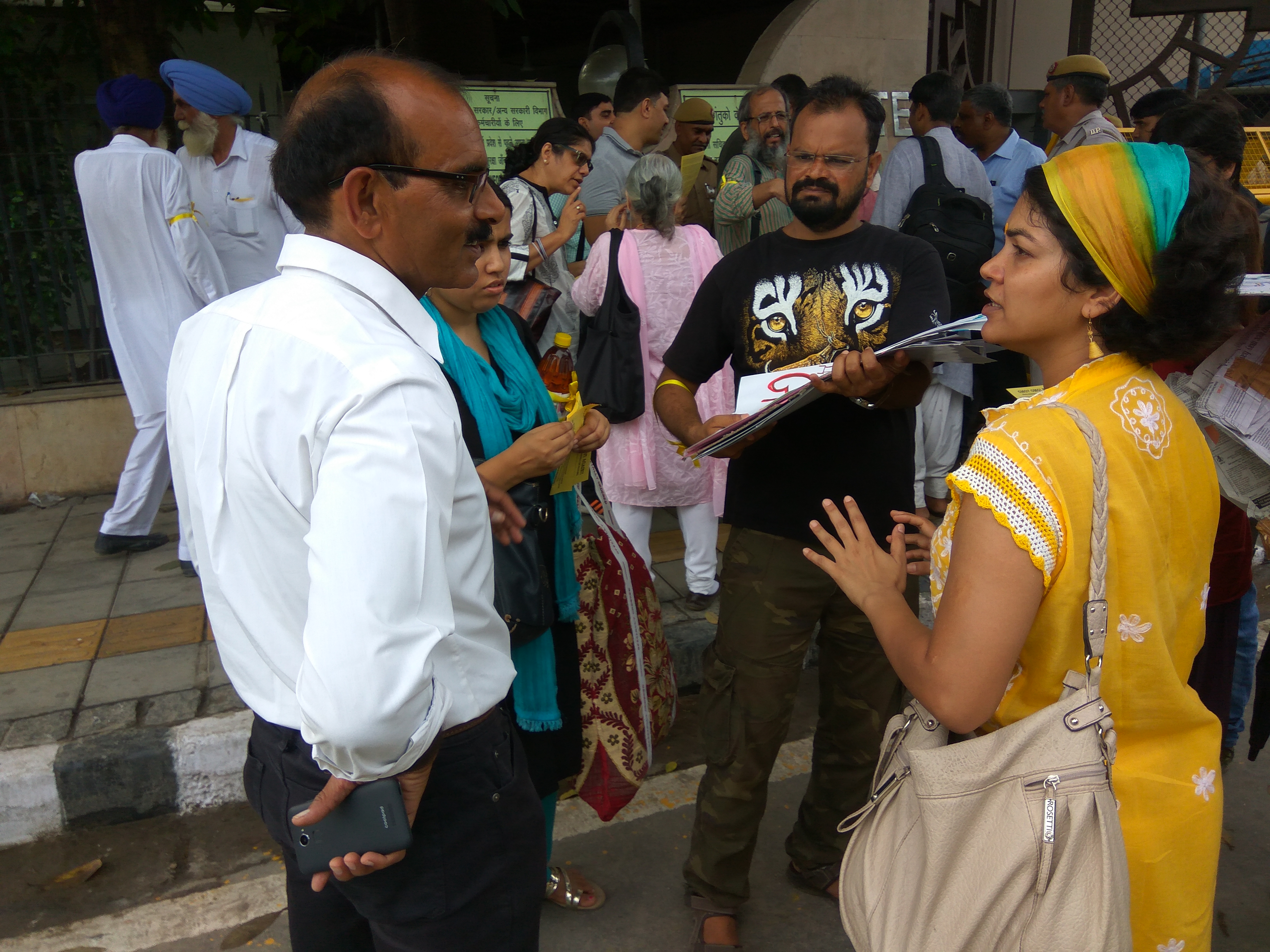 New Delhi, September 1st 2016: Braving heavy downpour, a group of citizens landed at Delhi CM Arvind Kejriwal's office today, urging him to proactively intervene in the matter of GM mustard which the Government of India's regulators are considering for approval. If approved, this would be the first time that a Genetically Modified food crop would have been allowed for commercial cultivation in India. This GM mustard has been created with 3 bacterial genes inserted unnaturally and there is controversy around its safety and its very need. The citizens' group gifted Kejriwal with non-toxic organic mustard oil, to gently point out that if he does not intervene in the matter now along with other key political leaders and state governments, this could be his last chance to consume non-GM, safe mustard oil. The citizens pointed out that consumers' right to informed choices will be infringed upon if GM mustard is approved by the Centre.
In the absence of Arvind Kejriwal in the office, the group was met by Satyendra Jain, Health Minister and Kapil Mishra, Tourism Minister, on behalf of the Delhi government. The citizens urged Aam Aadmi Party as well as Delhi government to stand on the side of citizens's health and environment and ensure that the Government of India does not approve GM mustard.
The Ministers assured the citizens that Delhi government is indeed opposed to GM foods, recognises the hazards of the technology and would do everything possible to protect consumer health and choices. They reminded the group that Deputy Chief Minister Manish Sisodia had already written to the Prime Minister in the past on the subject. Aam Aadmi Party's manifesto also committed itself to a precautionary approach on the issue, promising to protect health and environment from the risks involved. The Health and Tourism Ministers assured the group that the Delhi CM will write to the Prime Minister soon, pointing out that the citizens of Delhi are not in favour of the production or consumption of this GM mustard or other GM crops.
"This GM mustard is unneeded, given that many other non-transgenic successful alternatives like System of Mustard Intensification exist for yield improvements", pointed out Ashish Gupta, social entrepreneur promoting safe food for Delhi'ites. He said that this GM mustard is a herbicide tolerant crop which means that more chemicals will be used in mustard farming leading to environmental impacts like adverse effects on honeybees etc., and will also mean greater toxic chemical residues in consumer food. Most importantly, consumers will not be able to distinguish between GM and non-GM mustard and this infringement on our choices is unacceptable, he said.
"GM foods are rejected all over the world, except in a handful of countries. We urged the health minister who has the mandate to keep our health protected, and safe food available to citizens, to intervene in the matter. Given the large body of evidence that is available on the adverse impacts of GM crops, citizens are indeed worried about their health and their children's health", said Ashima Khemka, mother of a young child.
Hartej Singh Mehta, a farmer from Punjab who joined the delegation along with a few farmers from Punjab said that it is important that governments in neighboring states like Punjab stop the potential entry of GM mustard seeds, as such food will then come into Delhi and impact citizens health here, in addition to where it is grown.
For more information, contact
: Ashish Gupta at 9810348193
===============================================
To
Shri Arvind Kejriwal,
Hon'ble Chief Minister of Delhi Government.
Dear Sir,
Sub: Urgent intervention requested for stopping Government of India's bid to approve GM mustard – reg.
Greetings! As you would be aware from recent media reports, a technical panel within the apex regulatory body for gene technology, Genetic Engineering Appraisal Committee (GEAC), has reportedly given a green signal for GM mustard. This means that this GM mustard is inexorably moving closer to our farms and plates, even though basic questions around transgenic technology, its safety and need have remained unanswered yet. In the case of this GM mustard, there is now clear evidence that not only is this unneeded given that other non-GM technologies exist for hybridization, but that testing was actively rigged to create misleading results in favour of GM mustard. Most importantly, the fact that this is a herbicide tolerant (HT) GM mustard was not revealed as such to the regulators, and there has been no testing of GM mustard as a HT crop.
Herbicide Tolerant crops will mean greater chemicals used by farmers in their agriculture, and the same chemicals will certainly come back as more toxic residues in our food and water. There are also environmental implications of such HT crops including creation of Super Weeds.
Sir, consumers as well as farmers will not be able to keep themselves GM-free since there would be no ways of segregating GM mustard from non-GM mustard. This means an infringement on our basic rights to know what is in my food, to informed choices in food, and a right to safe food. It is also not clear who we should hold liable tomorrow when there are adverse impacts from the cultivation and consumption of this GM mustard.
Worldwide, more and more regions are actively banning this technology from their food and farming systems, whereas India seems to be inching closer to unsafe GMOs being deployed in our agriculture. As you know, mustard is a very important crop and food for this region. We are attaching some relevant materials which highlight why we are opposed to this GMO in particular as well as GMOs in our food and farming in general.
Aam Aadmi Party in its manifesto had committed to ensuring safety to food, human health and environment from GM crops and had expressly recognized that this is an irreversible technology. We are also aware of the fact that the Dy. CM Shri Manish Sisodia had written to the Prime Minister earlier on the subject of GM Mustard.
We now urge you to take a proactive leadership role on this matter, and write to the Prime Minister pointing out to the dangers of approving this GM mustard which is a Trojan Horse for many other such GMOs of MNCs and others, and let the Centre know that states would not be able to implement their respective policies of keeping themselves GM-free if the Centre approves such applications, that too in a secretive fashion, without any consultations with important stakeholders. Please intervene and make sure that consumer choices and food safety is upheld. Thank you.
Sincerely,