Right from the beginning, it has been seen that in good years, when the yields are good, industry gives credit to Bt cotton; in bad years, blame it on the rain!
Cotton yield may fall to 5-yr low
The cotton revolution through Bacillus Thuringiensis, popularly known as Bt, has been losing its sheen gradually over the past five years and there has been a consistent decline in cotton yield. Even as the area under Bt has grown to 93 per cent of the total area under the cash crop, the overall yield is estimated to decline to a five-year low this cotton harvesting season that begins October 2011.
According to a senior official of the Cotton Development and Research Association (CDRA) of the Confederation of Indian Textile Industry (CITI), the overall yield this year may be less that the last year's level of 475 kg per ha, because of unfavourable climatic conditions in some of the northern and central states.
With the acreage estimated at 12.1 million hectares, the Cotton Advisory Board had earlier forecast the output to be 35.5 million bales (170 kg each). However, the estimate has now been lowered to 35 million bales, without factoring in the crop damage in the late September-October period due to heavy rainfall and heat waves. In India, only 35 per cent of cotton acreage comes under irrigation.
This is an admitted fact that overall cotton yield has seen a consistent decline after hitting the record high of 554 kg per ha in 2007-08, said A B Joshi, Textile Commissioner.
Between 5 and 7 per cent of cotton crop in Punjab and Gujarat had been damaged due to unfavourable monsoon and its distribution. Stong heat waves in October may also affect the crop, reducing the overall weight of the commodity.
According to a report by Angel Broking, India stands next to China in cotton output, producing 31.2 million bales in 2010-11. This is mainly because of lower yields. India's cotton yield, at 529 kg/ha lags drastically behind both the Chinese yield of 1,310 kg/ha and the world average of 774 kg/ha (US Department of Agriculture estimates for 2010-11).
M B Lal, a veteran cotton trader, says: "It is too early to estimate the damage. We have to wait till November-end to get a clear picture of the yield and output for the current season."
P D Patodia, Chairman of CITI's standing committee on cotton, points out that that cotton yield in India is still much below the world average of over 750 kg per ha. He has appealed to the cotton growers to replicate the example of Gujarat, which raised its cotton production to 10.3 million bales in 2010-11, from 3.9 million bales in 2002-03.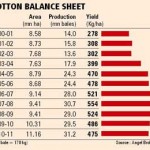 Dilip Kumar Jha / Mumbai October 26, 2011, 0:44 IST
http://www.business-standard.com/india/news/cotton-yield-may-fall-to-5-yr-low/453669/
Also read:
http://www.downtoearth.org.in/content/busting-bt-cotton-myths
http://www.downtoearth.org.in/content/cotton-saga-unravels