Biotechnology Regulatory Authority of India Bill: Learn More
India does not have an express statute unlike many other countries, to regulate transgenics in our food and farming. It uses the 1989 Rules of the Environment Protection Act (1986). The regulatory regime created using these rules has proven itself to be unscientific, biased, opaque, undemocratic and incapable in a variety of ways time and time again. Conflicting interests prevail where GM crop developers are an integral part of decision-making. Violations of the Rules, guidelines, orders and norms are violated regularly without any liability fixed so far. The Bt brinjal moratorium decision is a classic illustration of what is wrong with the current regulatory regime.
A statute is being proposed to be enacted for regulation of modern biotechnology in the country and a Bill to this effect, called the Biotechnology Regulatory Authority of India Bill (BRAI Bill) 2013 has been tabled in Lok Sabha by the Minister for Science and Technology, Mr Jaipal Reddy, on April 22nd 2013. This was done despite stiff resistance to the very tabling of the Bill. Right after the introduction of the Bill, there was a loud demand for the government to withdraw the Bill from various quarters – you can see the letter of 16 Parliamentarians here, and here. Madhya Pradesh state government demanded the same.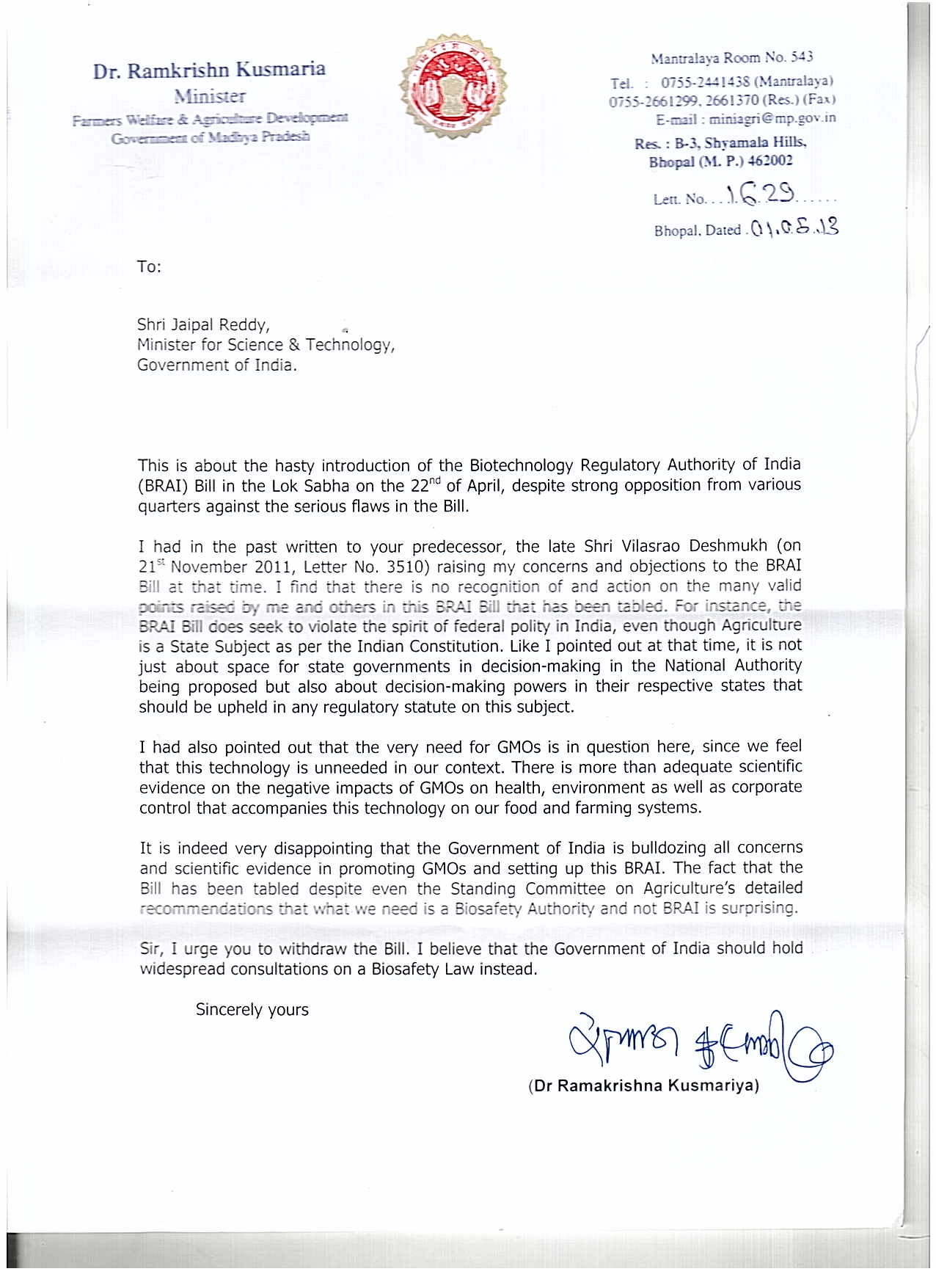 .
Biotechnology Regulatory Authority of India Bill 2013 can be downloaded here. You can download the Bill (BRAI_Bill_2011) here, and an earlier version (drafted in 2009, leaked out in March 2010 – BIOTECHNOLOGY-REGULATORY-AUTHORITY-OF-INDIA-BILL-2010) is available here.
A detailed critique by the Coalition for a GM-Free India of BRAI Bill 2011 (downloadable here) points out that this Bill is being pushed to muzzle resistance against transgenics by state governments and citizens. An updated version of the critique, of the BRAI Bill 2013 is available here.
It is interesting to note that the NBRA Bill 2008 which sought public feedback, came back without any positive changes but in a worse form in its BRAI versions. The Coalition opposed the NBRA Bill 2008 too. A long standing demand has been to pick up progressive elements of regulation as contained in the Norwegian Gene Technology Act or from the Third World Network's Model Biosafety Law.
Read the National Campaign for People's Right to Information (NCPRI) statement of opposition against the BRAI Bill here.
Read here what various Members of Parliament have to say about the BRAI Bill.